What is Zynk? Zynk is a graphical user interface / GUI for rsync with some special features.
Zynk is being written in C using GTK+ and theGlade interface designer.
Features
My goal is to implement as much features as possible from the rsync command. I think everything is possible so all parameters will be implemented at some time. I will implement all functionality exactly like it is integrated in rsync to be as much compatible as possible. The interface will only show some standard options and more enhanced configuration must be done in a detailed configuration window.
Screenshots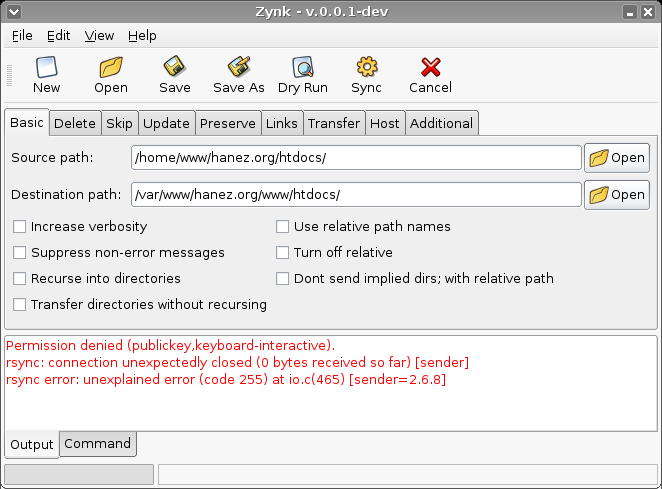 Dot Zynk files
Zynk project files does look like the file example.zynk.
Status
You can see the development status of the project below. This status shows you how much work is done until next release. A more detailed development status will follow... ;-)
Feature requests!
If you have some features you would like to add to Zynk, please send me mail. This project is very new and i really would like to get some information from the outside world... ;-) Please send feature requests to: you at hanez dot org
To do
Bugs
Please report bugs via mail to: you at hanez dot org
Requirements
UNIX like operating system (Linux, BSD etc.)
GTK+ >= 2.?
Libxml2 >= 2.?
libglade >= 2.?
glib >= 2.?
rsync >= 2.6.1 (available in your $PATH)
Prebuild Zynk Packages
Development
The sources are availabla via git.
git clone git://github.com/hanez/Zynk.git
Installation
Run the following commands in your terminal:
./configure
make
su
*enter root password*
make install
Most people want to run the following configure command instead of only ./configure:
./configure --prefix=/usr
Weblinks