My Artix Linux / Ableton Live workspace!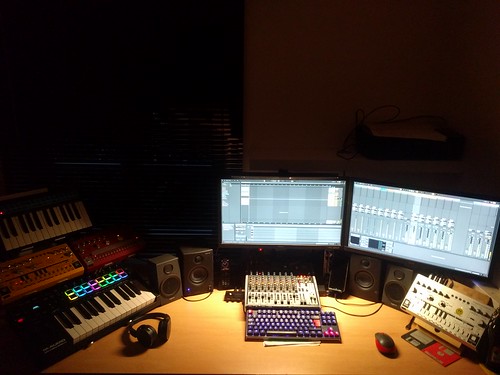 Ableton Live works very nice without any limits and errors using Linux, Wine, JACK and the WineASIO driver for low latency (5ms is very nice). In my case it is the systemd free Linux distribution named Artix. Artix is based on Arch Linux and is my everyday Linux since some years now without any problems. You see a NOVATION BassStation on the left, then a Behringer TD-3 and Behringer RD-6 followed by an M-AUDIO OXYGEN PRO 25 MIDI Controller. In the middle is a Behringer XENYX X1622USB mixer and on the right another Behringer TD-3. Two 303 clones are very useful when making Acid sound... :) On the screens you see Ableton Live 11 which is the only DAW working perfectly on Linux / Wine. To be honest, even free and open source DAWs have not the power to create music in a productive way. Ardour is a very nice DAW but its focused on audio recording. For MIDI it is missing a lot of features. Ableton is just what I need to go on fast and creative.
All sizes
License
This photo is licensed under a Attribution-NonCommercial-ShareAlike 4.0 International (CC BY-NC-SA 4.0) license. Please contact me if you want to use this photo for commercial purposes.
Permalink: https://hanez.org/photo/c41b501f/