Thursday, March 10th, 2011
I am restructuring this site and the server it is running on at the moment. I moved the site to a new server today. No script languages, database servers etc. anymore! Everything is being generated offline to static HTML since some days!
This website is just a mirror off what I am running on my local system. No backups of the server needed anymore, jehaaa!
The webserver underneath this website is thttpd at the moment but it is just an experiment. I am leaving the era of dynamic webpages so I don't have any need for software like Apache anymore. thttpd is great but I am missing some features. I will give lighttpd a try in the next days.
The RSS and Atom feed has been moved. Update your readers! Maybe they will come back to the old place later but at the moment I don't care.. The problem is, that I could not configure thttpd to read index.rss files like reading index.html automatically in a directory context. It is not a big problem but some more features would be great.
I will publish the state of the hanez.org server here and will then explain how and why the final solution looks like it is… ;)
Posted in: website
Monday, March 7th, 2011
I build a new Arduino device this weekend. I was ill and had much time chilling at home and hacked this:
It is a TA01-11 LED matrix from Kingbright. It was a little bit tricky to figure out how it works because it was the first matrix I played with but at the end everything worked fine… ;) Thanks to Rafael for this great hacking session!
You could find more information and the code on my Arduino TA07-11 5×7 Dot Matrix Display page. Have fun!
Posted in: DIY, electronics
Friday, March 4th, 2011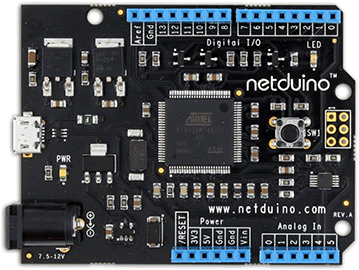 I got my new toy some minutes ago. A Netduino!
Netduino is an open source electronics platform using the .NET Micro Framework. The idea is taken from the Arduino platform but the difference is, that the Netduino is being programmed in .NET and it has a much more powerful 32-bit microcontroller onboard. It is an AT91SAM7X512 with the following specs:
Atmel 32-bit microcontroller
Speed: 48MHz, ARM7
Code Storage: 128 KB
RAM: 60 KB
Hopefully I could develop with the Mono project for it but at first I will do my work in a Microsoft based environment. Sounds contradictory? Yes, it is… but I want to give it a try… ;)
I am a little bit it ill at the moment but it will be a funny weekend when playing with this nice piece of hardware.
Posted in: DIY, electronics
Saturday, January 29th, 2011
I converted this site to static HTML today. The site is now being generated offline.
"wget -m" is my base tool for that… ;)
I will add some dynamic functions like comments via a cgi-bin/ directory in the future but currently I don't care about…
Friday, December 17th, 2010
I have released the source code of my project "PC/SC for PHP" today.
It is an extension for PHP using pcsc-lite for smart card communication based on the PC/SC standard.
It is just an attempt to realize the idea of native and server side smart card communication within a PHP project. It could for example be useful if your web application needs access to crypto for signing, encryption etc. using a smart card as a SAM (Secure Application Module) or as a HSM (Hardware Security Module).
Have fun and please send me some comments…!
Posted in: OpenSource, SmartCards
Pages
Tags
Account ACTA Amsterdam Android App Arduino Arm Attiny Automation Avr Beach Board Book Bootstrap Circuit Clouds Code Community Cross Css3 Cyanogen Denhaag Denmark Desaster Deutsch Device Distribution DIY Dotnet Electronics Embedded Extension Extension news Firefox Foo Fosdem Freedom Freifunk Friends internet Fun Games GCC Gentoo German Gnoduino Hamburg Header Hello Holiday Host Howto HTML Html5 Httpd Internet Irc Jabber Javascript Keitum Kernel Language Lcd Led Lego Leiden Leo Leo-search Life Linspector Linux Madurodam MariaDB Matrix Mindstorms Minimal Mirror Mobile Monitoring Moon Music Mysql Nagios Nas Netduino Netherlands Network News NXT Ooc Openmediavault OpenSource Openwrt Patents Pcsc Petition Photo Photos Php Politics Programming Python Question Recovery Robotics Rsync Sabayon Scheduler Scm Sensor Server Service Shell Simulation SmartCards Snow Soap Society Software Starwars Static Sun Sweden Sylt Techno Telemichel Toolchain Translation Vpn Website Wget Wine Wiring Wordpress Wsdl Xmpp Zsh Zynk
$Date: 2010-12-17 00:11:02 +0100 (Fri, 17 Dec 2010) $