Saturday, August 27th, 2011

I upgraded to Linux kernel version 3.0.3 today and it works!
There were some things to think about but almost everything worked like kernel 2.6.39. The main problem was the Nvidia driver which must be the newest version available. The "stable" version for 2.6 doesn't compile. I added the following to /etc/portage/package.keywords to get things run:
=sys-kernel/vanilla-sources-3.0.3       ~x86
x11-drivers/nvidia-drivers      ~x86
VirtualBox modules compiled without any problems and is running like before…
Just upgrade! Ask me if you need help… ;)
Posted in: linux
Sunday, May 29th, 2011
Rafael and I found this 7 segment LED display tonight while tinkering a bit. We didn't knew what it is at first but after searching around the web we found out that it was a very vintage 7 segment LED display with 3 digits… ;) It is a HP 5082-7433.
Posted in: DIY, electronics
Wednesday, May 25th, 2011
I tinkered a little bit this evening and I have added a motion sensor to the Arduino platform. After that I added a network shield and have coded a small HTTP server… This server provides just a 0 or an 1. 0 if I don't have moved around; 1 if I am dancing on the desk… ;) The sensor works with a radius of about 5 to 7 meters and it is really a lot of fun. You could get such sensors very cheap at ebay, just search for "arduino motion sensor".
I am getting the status every second using wget and are displaying the output in xterm. It looks nice to see how much I am moving when writing this Blog post:
Posted in: DIY, electronics
Sunday, May 8th, 2011
I was on holiday in Denmark last week. It was a great time. Since I was on a danish school, I were there many times in my youth. I felt very well @home… ;)
Posted in: fun
Monday, April 11th, 2011
I am ill today and needed to distract me some bit.
I added a LM35 temperature sensor to my Arduino. Since someone did the work already, I only needed to copy some code and setup the wiring on a breadboard. I used the same wiring like in the link. Below is an image of the wiring made with Fritzing. I am using a LM335 for this because there where no LM35 as a Fritzing part available…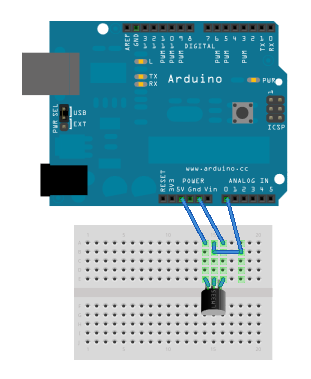 I changed some parts of the code to only print the temperature as String to serial. In the original code the data was sent as (byte) over serial to read the value with an application created using Processing. Feel free to change this again… ;) This is the code I used:
float temp;
int tempPin = 0;

void setup()
{
  Serial.begin(9600);
}

void loop()
{
  temp = analogRead(tempPin);
  temp = temp * 0.48828125;
  Serial.println(temp);
  delay(1000);
}
My output in the serial monitor of the Arduino IDE looks like this: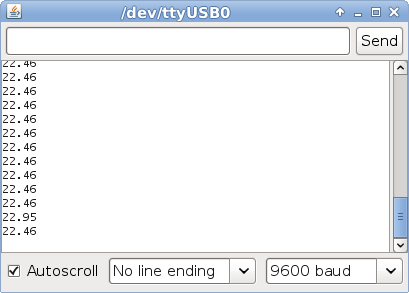 Posted in: DIY, opensource
Pages
Tags
Account ACTA Amsterdam Android App Arduino Arm Attiny Automation Avr Beach Board Book Bootstrap Circuit Clouds Code Community Cross Css3 Cyanogen Denhaag Denmark Desaster Deutsch Device Distribution DIY Dotnet Electronics Embedded Extension Extension news Firefox Foo Fosdem Freedom Freifunk Friends internet Fun Games GCC Gentoo German Git Gnoduino Hamburg Header Hello Holiday Host Howto HTML Html5 Httpd Internet Irc Jabber Javascript Keitum Kernel Language Lcd Led Lego Leiden Leo Leo-search Life Linspector Linux Madurodam MariaDB Matrix Mindstorms Minimal Mirror Mobile Monitoring Moon Music Mysql Nagios Nas Netduino Netherlands Network News NXT Ooc Openmediavault Opensource Openwrt Patents Pcsc Petition Photo Photos Php Politics Programming Python Question Recovery Robotics Rsync Sabayon Scheduler Scm Sensor Server Service Shell Simulation Smartcards Snow Soap Society Software Starwars Static Sun Sweden Sylt Techno Telemichel Toolchain Translation Vpn Website Wget Wine Wiring Wordpress Wsdl Xmpp Zsh Zynk