Leo Search
A Firefox extension for searching the Leo.org database.
Description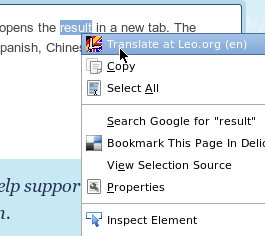 Searches for marked words in the database at dict.leo.org and opens the result in a new tab. The fastest way to search at leo.org. It supports English, French, Spanish, Chinese, Italian Russian, Polish and Portuguese to German translation.
Since I am using leo.org very much every day and I really needed a very simple way to search the database at leo.org, I decided to write my own - context menu based - addon for Firefox. It simply searches for selected words and opens the result in a new tab or window.
Download
Please download this extension at https://addons.mozilla.org/en-US/firefox/addon/leo-search/.
Code
The source code of Leo Search is available at GitHub:
git clone git://github.com/hanez/leo-search.git