Archive for the 'network' Category
Friday, September 27th, 2013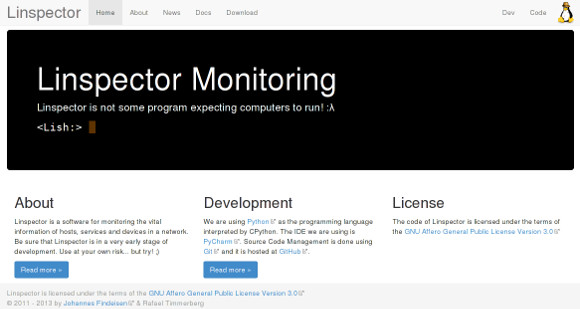 Linspector got a new website! I made it with the use of Bootstrap and mostly the default theme settings. It was a very fast process to get a result like this. I love that Bootstrap stuff… ;) I will from time to time work on the design to make it unique but for now I am happy like it is.
BTW: I would like to announce that the monitoring software Linspector is in a usable state. Sure it should not be used in productive environments at the moment but you can clearly see the goals and programming interfaces for adding features.
Please test Linspector and report your experience. If you like writing Python code and really want a new kind of monitoring software you are very welcome to participate in the project. Take a look at the Linspector Dev Site to get more information…
Posted in: monitoring, network, news, opensource
Thursday, April 5th, 2012

I set up my own XMPP / Jabber Server some minutes ago. I installed Prosody without any problems. You could now contact me via hanez@systemchaos.org. Please use this account for future contact requests. Since decentralization is a good way for keeping enemies away, run your own XMPP service!
The configuration took about 5 minutes. I created a certificate for encrypted communication to the server and then changed some small parts of the configuration. Since this server is "private only" I don't need to care about much stuff. You could not register, so the most stuff is static. Adding users is not more then an "adduser" command on generic operating systems.
It is so easy… do it yourself and be autonomous from services on the net…
Posted in: network
Wednesday, March 17th, 2010
Does someone had contact with writing SOAP services using PHP, Python etc.? It really sucks. I have tried all kind of SOAP libs in the past few month. PHP's implementation is very evil… Segfaults etc. WSO2 for PHP seems not to be stable. Segfaults too! What to do? Are there only JAVA or C++ implementations available, which are workling like expected or are compliant with the definition? Python? Ruby, ***? Hmmmm, I only need a lib that handles SOAP, not acts as a server!
I am going crazy because there is no useable SOAP implementation available for open source platforms!
Please give me a hint if I am missing something! What do you use? Which Language (except JAVA)?
Pages
Tags
Account ACTA Amsterdam Android App Arduino Arm Attiny Automation Avr Beach Board Book Bootstrap Circuit Clouds Code Community Cross Css3 Cyanogen Denhaag Denmark Desaster Deutsch Device Distribution DIY Dotnet Electronics Embedded Extension Extension news Firefox Foo Fosdem Freedom Freifunk Friends internet Fun Games GCC Gentoo German Git Gnoduino Hamburg Header Hello Holiday Host Howto HTML Html5 Httpd Internet Irc Jabber Javascript Keitum Kernel Language Lcd Led Lego Leiden Leo Leo-search Life Linspector Linux Madurodam MariaDB Matrix Mindstorms Minimal Mirror Mobile Monitoring Moon Music Mysql Nagios Nas Netduino Netherlands Network News NXT Ooc Openmediavault Opensource Openwrt Patents Pcsc Petition Photo Photos Php Politics Programming Python Question Recovery Robotics Rsync Sabayon Scheduler Scm Sensor Server Service Shell Simulation Smartcards Snow Soap Society Software Starwars Static Sun Sweden Sylt Techno Telemichel Toolchain Translation Vpn Website Wget Wine Wiring Wordpress Wsdl Xmpp Zsh Zynk