Archive for the 'network' Category
Monday, February 25th, 2013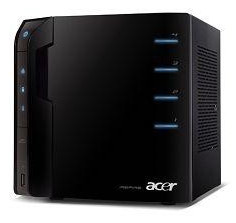 Today a friend gave me his old NAS as a gift… It is an Acer easyStore H340 with 2 x 1TB harddrives. There was a broken Windows installation on it which I directly replaced with the very nice Debian based NAS solution called OpenMediaVault.
I setup the box within some few minutes and it is wonderful. I must say that I installed the OS on an external USB stick because I wanted a mirrored RAID and didn't wanted to insert a 3rd harddrive just for the OS. I will maybe add a small SSD or flash on the SATA bus at some time and will then put the OS there… but only if I am not adding two more harddrives… ;) For now everything is nice like it is.
The web GUI is very clean and easy to use. The RAID was also setup within the web GUI. Everything is just some clicks and you're done… :)
I am happy about this new device!
Posted in: device, distribution, host, linux, nas, network, openmediavault, server
Thursday, April 5th, 2012

I set up my own XMPP / Jabber Server some minutes ago. I installed Prosody without any problems. You could now contact me via hanez@systemchaos.org. Please use this account for future contact requests. Since decentralization is a good way for keeping enemies away, run your own XMPP service!
The configuration took about 5 minutes. I created a certificate for encrypted communication to the server and then changed some small parts of the configuration. Since this server is "private only" I don't need to care about much stuff. You could not register, so the most stuff is static. Adding users is not more then an "adduser" command on generic operating systems.
It is so easy… do it yourself and be autonomous from services on the net…
Posted in: community, friends, internet, jabber, network, opensource, server, service, xmpp
Wednesday, March 17th, 2010
Does someone had contact with writing SOAP services using PHP, Python etc.? It really sucks. I have tried all kind of SOAP libs in the past few month. PHP's implementation is very evil… Segfaults etc. WSO2 for PHP seems not to be stable. Segfaults too! What to do? Are there only JAVA or C++ implementations available, which are workling like expected or are compliant with the definition? Python? Ruby, ***? Hmmmm, I only need a lib that handles SOAP, not acts as a server!
I am going crazy because there is no useable SOAP implementation available for open source platforms!
Please give me a hint if I am missing something! What do you use? Which Language (except JAVA)?
Saturday, February 14th, 2009
John, the author of l2gvpn released version 0.1 of l2gvpn some days ago.
Go, take a look! This is a really cool approach of a VPN implementation in just some few lines of code.
Posted in: freifunk, linux, network, opensource, vpn
Pages
Categories
account acta amsterdam android app arduino arm attiny automation avr beach board book circuit code community cross cyanogen denhaag denmark desaster deutsch device distribution diy dotnet electronics embedded extension firefox foo fosdem freedom freifunk friends fun games gcc gentoo german gnoduino hamburg header holiday host howto httpd internet irc jabber keitum kernel language lcd led lego leiden leo leo-search life linux madurodam mariadb matrix mindstorms minimal mobile monitoring moon music mysql nagios nas netduino netherland network news nxt ooc openmediavault opensource openwrt pcsc photos php politics programming question recovery robotics rsync sabayon scm sensor server service shell simulation smartcard snow soap space sun sweden sylt techno telemichel toolchain translation vpn website wine wiring wsdl xmpp zsh zynk
$Date: 2009-02-14 23:52:00 +0100 (Sat, 14 Feb 2009) $