Archive for the 'app' Category
Sunday, April 10th, 2011

Rafael found an application called Yenka in the web. This software is wonderful! You could use it for simulating many things. We are using it for designing and simulating electronic circuits but other stuff like mathematics and physics are available too. It is a very nice application for teaching and learning…
Below is an image of a simple transistor switch designed with Yenka.
Switched off: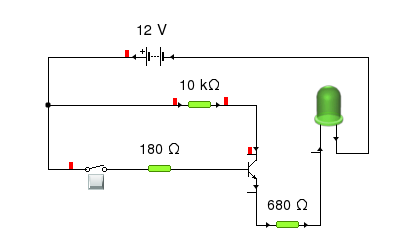 Switched on: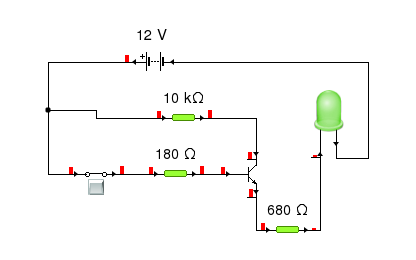 You could simulate the circuit. When switching the button in the lower left corner. You could measure the Voltage and Ampere at every point of the circuit… ;) Now I don't need so much time to solder anymore… even it is a lot of fun soldering own devices.
You could download it for free and use it completely for free when using it at home! With all features!!! There is a version for Mac, Windows AND Linux available.
Posted in: app, automation, circuit, diy, electronics, simulation
Wednesday, March 30th, 2011

I found this nice Android app today. Since I am setting up the monitoring of some servers using Nagios this app is very useful to me. The app is called Nagroid and it is completely free and the code is available at Google Code.
Posted in: android, app, host, monitoring, nagios
Pages
Categories
account acta amsterdam android app arduino arm attiny automation avr beach board book circuit code community cross cyanogen denhaag denmark desaster deutsch device distribution diy dotnet electronics embedded extension firefox foo fosdem freedom freifunk friends fun games gcc gentoo german gnoduino hamburg header holiday host howto httpd internet irc jabber keitum kernel language lcd led lego leiden leo leo-search life linux madurodam mariadb matrix mindstorms minimal mobile monitoring moon music mysql nagios nas netduino netherland network news nxt ooc openmediavault opensource openwrt pcsc photos php politics programming question recovery robotics rsync sabayon scm sensor server service shell simulation smartcard snow soap space sun sweden sylt techno telemichel toolchain translation vpn website wine wiring wsdl xmpp zsh zynk
$Date: 2011-03-30 11:18:14 +0100 (Wed, 30 Mar 2011) $